I got my hands on a Asus HYPER M.2 NVMe adapter (And bought a second one later on), that allows for the use of 4 M.2 NVMe disks in a single x16 PCIe 3.0 or PCIe 4.0 slot, depending on the version of the card. This card was ideal for the use in my homelab, as it allows for me to utilize old Intel 660p NVMe disks in a useful way.
The cards
I first got my hands on a Asus Hyper PCIe 3.0 card for my lab, the card is shorter and the disks are placed horizontally on the pcb. The newer PCIe 4.0 card is longer, and takes up more space as the disks are placed diagonally on the pcb, and it contains a fan. The fan is useless in a server case, due to the high airflow already present. Both cards fit int he R730xd case, as shown in the picture below. Take note that not all PCIe slots in the board support PCIe bifurcation. You can check this in the manual before committing to something similar.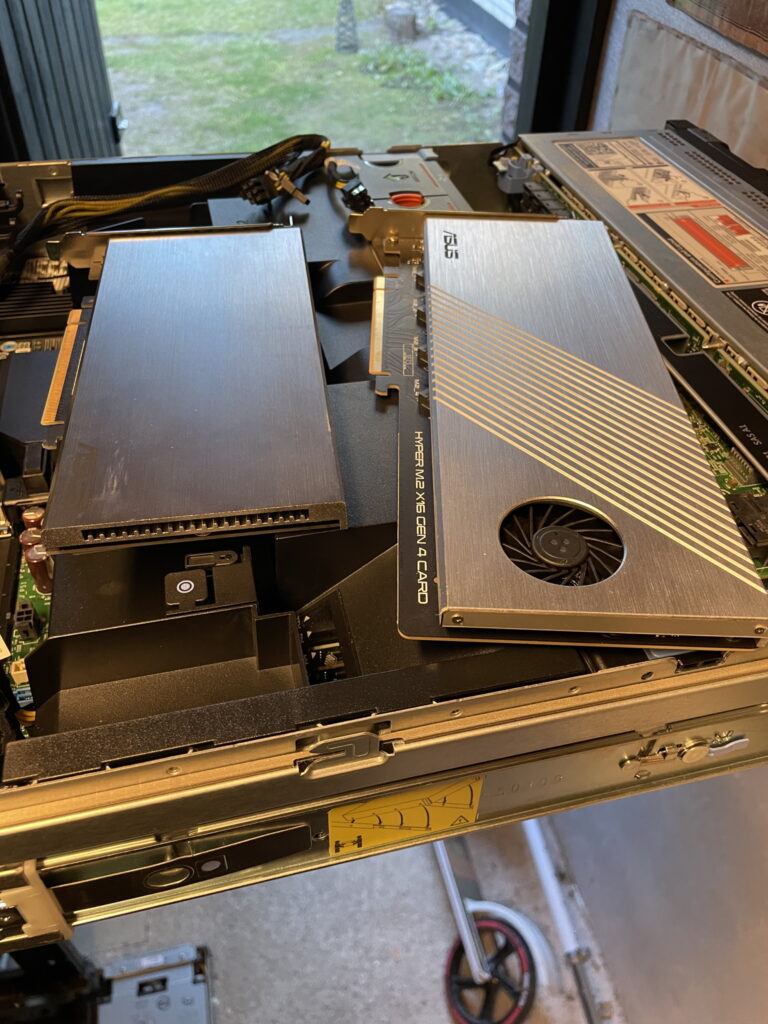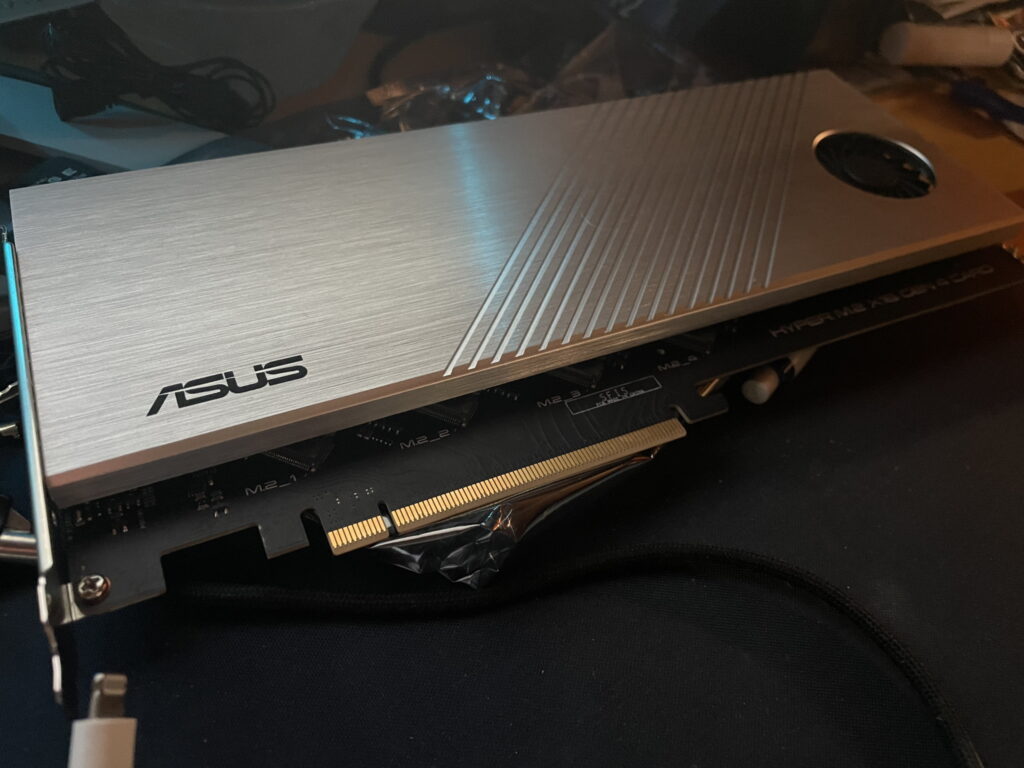 Dell PowerEdge R730xd Owner's Manual | Dell UK
BIOS Configuration
To enable bifurcation of the PCIe slot, you need to configure this in the system BIOS. In my case, slots 6 and 4 support 4 times bifurcation. The other slots only support x4x4, which would leave two slots in the card unusable. x4x4x4x4 is required for this to work out as expected.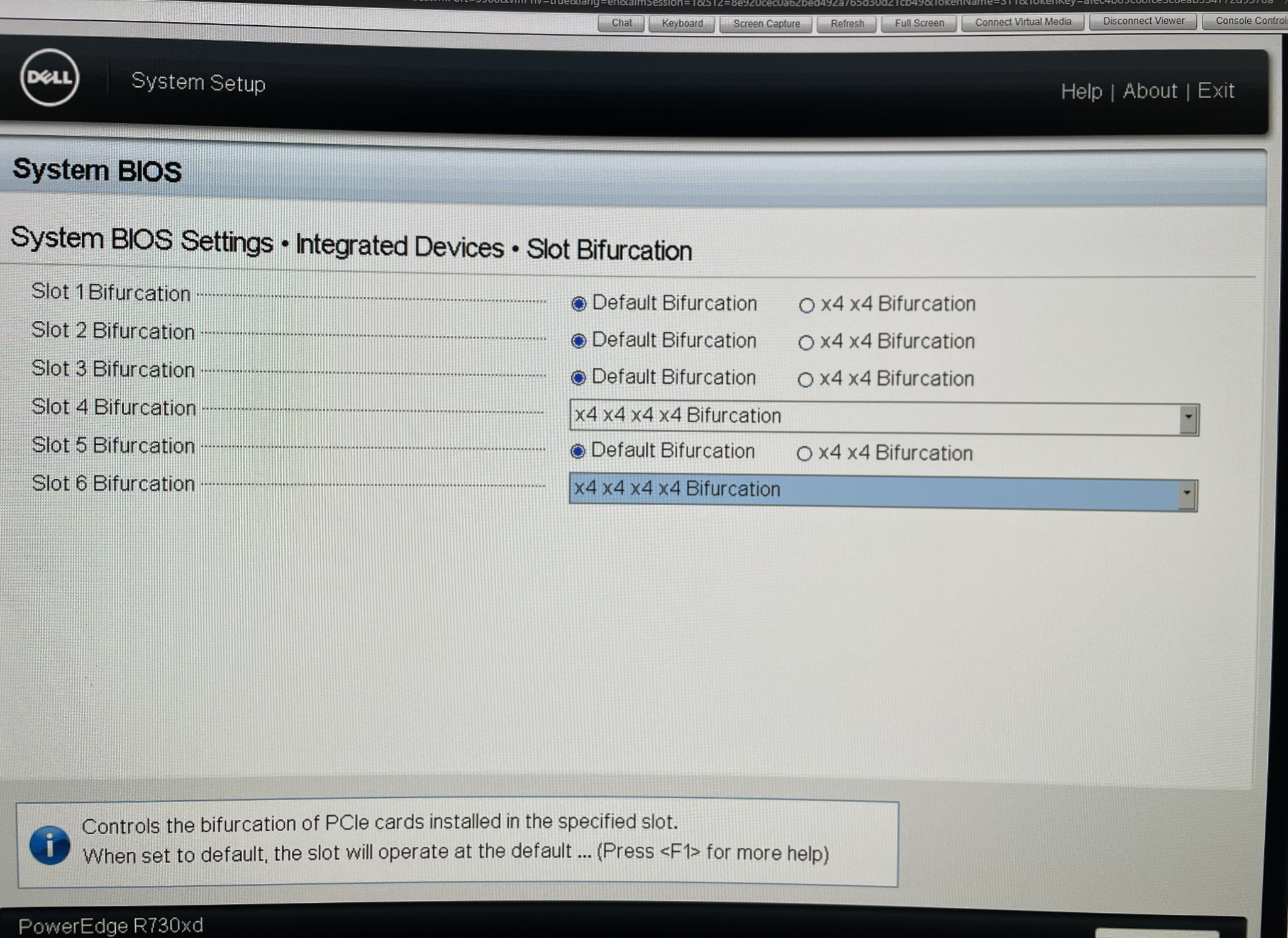 VMware Visibility
If everything goes as planned, you will have multiple PCIe NVMe disks available to you in VMware (Or Proxmox / KVM / Truenas / Unraid) to use how you please. They are not RAID compatible, so you need some kind of software RAID to use them with some sort of redundancy for failed disks. In my case, I have VMware on the host, so I had to configure the disks as pass-through PCIe devices to a Virtual Machine. Your milage may vary, just take note that these disks are JBOD (Just a Bunch Of Disks) when used in this manner.
You can continue to read about the disks in part 2. (Dell Poweredge R730xd with Asus Hyper NVMe Adapter Part2: VMware and Minio – Null Byte (null-byte.org))
Other cards to use
Here's a list of cards you could use for a similar project;
There are a lot of cards without Asus or ASrock branding on top on Amazon, AliExpress and so on.